Find the Perfect Match for Your Goals
At Spartan Academy, we offer a wide variety of classes to suit every interest and fitness level. Whether you're looking to master Brazilian Jiu Jitsu, train in MMA, or enhance your striking skills with kickboxing, our expert instructors are here to guide you.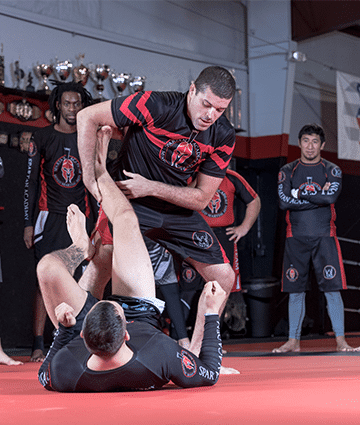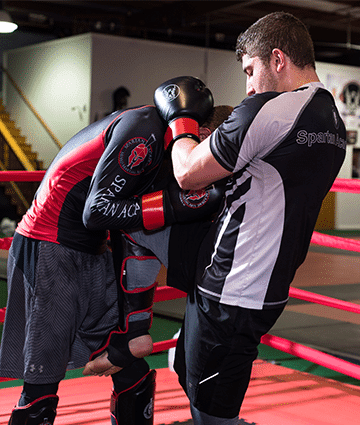 Discover our diverse range of classes at Spartan Academy, tailored to meet the needs and goals of students of all levels.
Our classes provide a dynamic and supportive environment to enhance your skills and unleash your potential.

The best martial art option for your child depends on their interests, goals, and preferences. At Spartan Academy, we offer Brazilian Jiu Jitsu (BJJ), Mixed Martial Arts (MMA), and Kickboxing. We recommend considering your child's individual needs and allowing them to try different classes to find the martial art that resonates with them the most.
The main difference between Brazilian Jiu Jitsu (BJJ) and Kickboxing lies in their focus and techniques. BJJ emphasizes ground grappling, submissions, and self-defense, while Kickboxing focuses on striking techniques using punches, kicks, and knee strikes. Both martial arts offer unique benefits and it ultimately depends on personal preference and goals.
Certainly! We understand the importance of finding the right fit for your training needs. That's why we offer a complimentary trial class, allowing you to immerse yourself in our program and experience the training environment firsthand. It's a great opportunity to meet our instructors, participate in a class, and get a feel for the techniques and atmosphere.
No, MMA training for kids is not inherently dangerous. At Spartan Academy, we prioritize safety and ensure that our kids' MMA classes are conducted in a controlled and supervised environment. Our experienced instructors teach proper technique, focus on skill development, and prioritize the well-being of each participant. With proper training, guidance, and emphasis on safety, kids can benefit from the discipline, fitness, and self-defense skills that MMA offers.
You can attend all Brazilian Jiu Jitsu classes, including open mat sessions. Please check our class schedule for more details.
Yes, absolutely! Our classes are designed to accommodate individuals of all fitness levels, ages and backgrounds. Our experienced instructors will guide you through the process, gradually building your fitness and skills at a pace that suits you. We encourage everyone to start at their own pace and progress at their own comfort level. You'll be amazed at how quickly you'll improve and adapt to the classes. Give it a try and see the positive impact it can have on your overall well-being!
Unleash the Champion Within
Empower Your Potential, Embark on a Journey of Excellence, and Embrace the Extraordinary Rewards of Personal Growth.
Dive into the feedback from our amazing students and discover why they can't stop raving about their extraordinary time at our school.