Brazilian Jiu Jitsu For Kids
Build confidence, discipline, and self-defense skills in a fun environment.
ABOUT Brazilian Jiu Jitsu For Kids
Brazilian Jiu Jitsu for Kids (ages 7 & up)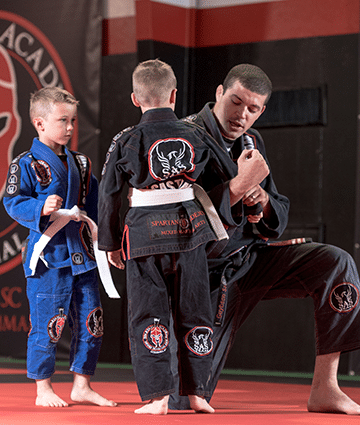 Spartan Academy Brazilian Jiu Jitsu classes offer kids a holistic approach, focusing on essential ground techniques, self-defense, physical fitness, and social skills in a dynamic and supportive atmosphere. Through engaging activities, we develop gross motor skills, cooperation, and fundamental defensive techniques. Our program places great emphasis on discipline, cooperation, self-confidence, and situational awareness.
During each 45-minute session, kids learn a variety of skills including takedowns, chokes, defense techniques, and submissions, both standing and on the ground. To apply what they've learned, students actively participate in supervised sparring sessions, providing an opportunity to practice and refine their techniques. Our classes maintain a high-energy, fun environment that fosters physical fitness and discipline.
While competition is encouraged, we understand that it is not mandatory. Spartan Academy value individual growth and cater to each student's goals and aspirations.
Monday
5:45 PM to 6:30 PM
Tuesday
5:45 PM to 6:30 PM
Wednesday
5:45 PM to 6:30 PM
Thursday
5:45 PM to 6:30 PM
Friday
6:00 PM to 6:45 PM
Saturday
Open Mat - 10:00 AM
Ask for our Military and Family Discounts
Get more information at front desk.
Explore the glowing reviews from our students and discover why our school is hailed as a premier destination for learning and growth in the martial arts community in South Carolina!
Questions About Brazilian Jiu Jitsu For Kids
Find answers to frequently asked questions about our BJJ classes for kids and gain valuable insights into how our specialized training nurtures their skills, confidence, and discipline!
Children can usually start participating in Brazilian Jiu-Jitsu classes from the age of 7, because at this stage they have developed sufficient physical coordination, attention span, and ability to follow instructions, which are essential for engaging in the training effectively and safely.
Absolutely! Brazilian Jiu-Jitsu techniques are carefully modified and adapted to suit the age and size of young children. This ensures their safety during training and allows them to learn and progress at an appropriate pace.
At Spartan Academy Brazilian Jiu-Jitsu classes for children, we prioritize creating a secure and supportive environment. We have dedicated safety measures in place, including qualified instructors who supervise all training sessions, age-appropriate equipment to minimize any risks, and a strong emphasis on teaching proper techniques and responsible training practices.
Benefits of Brazilian Jiu Jitsu For Kids
Join us and be transformed!
Take the first step towards your goals by filling out the form. We will get in touch to understand your needs and book a FREE trial class.