Unleash the Potential of Young Warriors with Kids & Teens MMA Training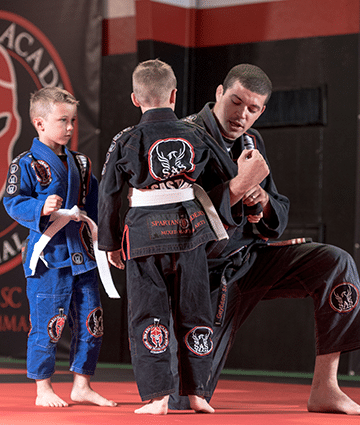 The Kids & Teens MMA program at Spartan Academy, where we combine various martial arts into an exciting and comprehensive experience. In this class, your child will have the opportunity to learn a mix of disciplines, including Boxing, Karate, Judo, Wrestling, and Brazilian Jiu Jitsu techniques. It's a dynamic blend that exposes them to a diverse range of martial arts.
Each session is designed to offer something new and engaging. Your child will experience a variety of activities, such as pad work, punching bags, grappling, and light and assisted sparring. Through these dynamic training methods, they will not only build their skills but also cultivate self-confidence and gain valuable insights into different martial arts.
Spartan Academy Kids & Teens MMA program is an excellent way for your child to explore their potential and develop a well-rounded understanding of various martial arts. They will learn essential techniques, foster discipline, and discover the joy of martial arts training. Join us at Spartan Academy and watch your child thrive as they embrace the exciting world of Kids MMA.
Ask for our Military and Family Discounts
Get more information at front desk.
Explore the glowing reviews from our students and discover why our school is hailed as a premier destination for learning and growth in the martial arts community in South Carolina!
Benefits of Kids & Teens MMA
Questions About Kids & Teens MMA
Find answers to frequently asked questions about Spartan Academy BJJ classes for Adults and gain valuable insights into how our specialized training nurtures their skills, confidence, and discipline!
Join us and be transformed!
Take the first step towards your goals by filling out the form. We will get in touch to understand your needs and book a FREE trial class.