Brazilian Jiu Jitsu For Adults
Embrace the Journey of Personal Growth through Brazilian Jiu Jitsu
ABOUT Brazilian Jiu Jitsu For Adults
Brazilian Jiu Jitsu for Adults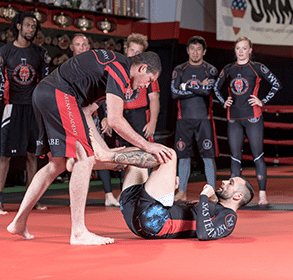 Spartan Academy Brazilian Jiu Jitsu program for adults offers a comprehensive approach, focusing on vital ground techniques, self-defense skills, physical conditioning, and personal growth within a supportive environment. Engaging exercises enhance motor skills, teamwork, and defensive abilities. We prioritize discipline, cooperation, self-confidence, and situational awareness, empowering adults on and off the mats.
After a few weeks of basic training at Spartan Academy, you are invited to attend both the beginner and regular classes. Our dynamic and energetic 60-minute sessions cover a wide range of skills, including takedowns, submissions, chokes, and defense techniques. Through controlled sparring sessions, you'll refine your abilities in a safe environment.
While we encourage participation in competitions, we honor individual aspirations. Each adult's journey in Brazilian Jiu Jitsu is unique, with opportunities for personal growth and improvement aligned with their goals and desires for self-mastery.
Join Spartan Academy community and experience the transformative power of Brazilian Jiu Jitsu. Discover your potential and thrive in a supportive and inspiring environment.
Spartan Academy also has No-Gi classes which are grounded in the techniques of traditional Brazilian Jiu Jitsu, with the fundamental principles remaining the same. However, adjustments are made to compensate for the absence of a uniform to hold onto. In this class, you'll dive into a whole new set of grips. The grips on the wrists, back of the neck, ankles, knees, and elbows differ from the traditional Gi grips.
In No Gi class, students learn a wide range of skills, including takedowns, positions, transitions, escapes, reversals, as well as the application and defense against joint locks, chokes, and other submission holds.
To ensure a safe and comfortable experience, a rashguard is required for attending the class.
Monday
6:00 AM | 11:00AM | 6:30 PM
Tuesday
No Gi - 6:00 AM | 11:00AM | 6:30 PM
Wednesday
6:00 AM | 11:00AM | 6:30 PM
Thursday
No Gi - 6:00 AM | 11:00AM | 6:30 PM
Friday
6:00 AM | 11:00AM | 6:00 PM
Saturday
Open Mat - 10:00 AM
Ask for our Military and Family Discounts
Get more information at front desk.
Explore the glowing reviews from our students and discover why our school is hailed as a premier destination for learning and growth in the martial arts community in South Carolina!
Benefits of Brazilian Jiu Jitsu For Adults
Questions About Brazilian Jiu Jitsu For Adults
Find answers to frequently asked questions about Spartan Academy BJJ classes for Adults and gain valuable insights into how our specialized training nurtures their skills, confidence, and discipline!
Join us and be transformed!
Take the first step towards your goals by filling out the form. We will get in touch to understand your needs and book a FREE trial class.